Summary
Current Position: US Representative for MN District 2 since 2019
Affiliation: Democrat
Featured Quote: 
This week, I was proud to receive the 2021 Retiree Hero Award from @ActiveRetirees
for my 100% pro-retiree voting record in Congress. I'll always work to ensure our nation's seniors receive the benefits they've earned and deserve.
Featured Video: 
The Equality Act: Rep. Angie Craig
News
 U.S. Rep. Angie Craig, who represents Minnesota's Second Congressional District, likes to say her district is covered by about 60% corn and soybeans.
Craig has made it a point during the tumultuous year to bring colleagues on the Ag Committee to the Second District to hear directly from Minnesota producers, and she was a participant in forums at Farmfest this year, asking producers what Congress can do to help them right now.
On Aug. 23 she was in Elko, Minnesota, at the Zweber Family Farm, to get a look at how organic dairy production is going during the drought. Craig said she also wanted to get an update on the conservation practices the operation put in place a few years ago when she last visited the farm.
Craig said she understands crop farmers aren't the only ones facing issues with the drought conditions.
Twitter
About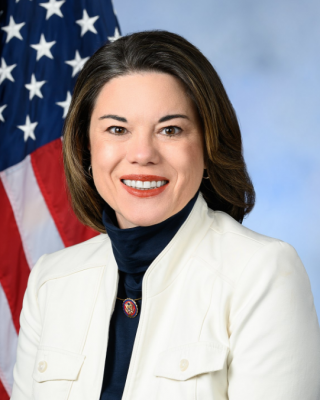 Source: Government page
Rep. Angie Craig represents Minnesota's Second Congressional District. She is fighting for working families – and for a Minnesota where every member of every family gets a fair shot. That means a future with lower health care costs and opportunities for career skills and technical training for 21st century jobs. She'll work with anybody – and take on the Washington establishment – to get things done for her constituents.
Rep. Craig learned the value of hard work from her mother, a single mom who raised three children while earning her teaching degree. She too worked two jobs to help put herself through college. Years later, she moved to Minnesota and fell in love with the strong communities and quality of life. She and her wife Cheryl Greene have four sons – three who have already graduated from college or tech school and one graduating from Rosemount High School in 2021. They lived in Eagan for nearly a decade and recently moved to Prior Lake. Angie attends church in Apple Valley and is a Rotarian who has served on several local community boards over the years. She is a small business investor, the former head of Global HR and Corporate Relations for a major Minnesota manufacturer, and a former newspaper reporter.
In Congress, Rep. Craig is fighting to make sure career skills and technical education is an option for every young person; to lower the cost of healthcare and to work toward a solution that expands health care to many more Americans; for infrastructure investments that benefit our communities – big and small; and for policies that reward people for their hard work – especially family farmers and small business owners. She plans to pursue these priorities through her appointments on the House Committees on Agriculture, Energy and Commerce and Small Business. But she knows she can't do it alone. Through regular town hall meetings and work in the district, Rep. Craig hopes to hear from you directly about how she can help deliver economic opportunity to every Minnesotan.
Voting Record
Caucuses 
Offices
12940 Harriet Avenue S.
Suite 238
(651) 846-2120
Contact
Email:
Web
Government Page, Campaign Site, Twitter, Facebook, Government Page
Politics
Source: none
Campaign Finance
Open Secrets – We Follow the Money
Voting Record
VoteSmart – National Key Votes & Ratings
Search
Wikipedia Entry
Angela Dawn Craig (born February 14, 1972) is an American politician and journalist serving as the U.S. Representative from Minnesota's 2nd congressional district since 2019. Craig is a member of the Democratic Party. Her political positions are considered left-leaning.[1] Her district includes most of the southern suburbs of the Twin Cities, such as Burnsville, Eagan, Inver Grove Heights, Apple Valley, Lakeville, and Shakopee.
Early life and career
Craig was born in West Helena, Arkansas, in 1972.[2][3] She graduated from Nettleton High School in Jonesboro, Arkansas,[4] and earned a bachelor's degree in journalism from the University of Memphis.[5]
After college, Craig interned at The Commercial Appeal and became a full-time reporter.[6] She lived in London from 2002 through 2005,[3][7] and worked at St. Jude Medical in human resources and communications from 2005 to 2017.[8][9][10]
U.S. House of Representatives
Elections
2016
In 2016, Craig ran for the United States House of Representatives in Minnesota's 2nd congressional district.[11] She announced her candidacy before Republican incumbent John Kline announced his retirement.[9] She faced no opposition in the Democratic primary. In the general election, she faced former conservative talk show host Jason Lewis.[11] She lost by fewer than 7,000 votes.
2018
Craig sought a rematch with Lewis in the 2018 elections.[8] As in 2016, she was unopposed in the Democratic primary. She defeated Lewis, becoming the first openly lesbian mother to be elected to Congress, the first woman to be elected in Minnesota's 2nd district, and the first openly gay person elected to Congress from Minnesota.[12][13] Craig received 52.6% of the vote, winning three of the six counties in the district.[14][15]
When she took office in January 2019, she became the first Democrat to represent Minnesota's 2nd district since it assumed its current configuration in 2003.
2020
In a verified recording, Legal Marijuana Now Party nominee Adam Weeks said that Republican operatives offered him $15,000 to run for Congress in the 2nd district in order to "pull votes away" from Craig. Weeks said, "They want me to run as a third-party, liberal candidate, which I'm down. I can play the liberal, you know that."[16][17] Leaders of prominent pro-marijuana legalization groups Minnesotans for Responsible Marijuana Regulation, Sensible Change Minnesota, and Minnesota NORML condemned the GOP strategy as "unconscionable".[16]
In late September, Weeks died of a drug overdose, throwing the election into chaos. Minnesota law requires a special election if a major-party nominee dies within 79 days of Election Day. The law was enacted to prevent a repeat of the circumstances of the 2002 U. S. Senate election, in which incumbent Paul Wellstone died 11 days before the general election. Since the Legal Marijuana Now Party was a major party in Minnesota (by virtue of its 2018 candidate for state auditor winning five percent of the vote), the 2nd District race was set to be postponed to February 9, 2021.[18] Craig sued to keep the election on November 3, arguing that the requirement for a special election could leave the 2nd district without representation for almost a month, and also violated federal election law.[19] Republican nominee Tyler Kistner joined the Minnesota Secretary of State as a defendant. The federal judge hearing the case ruled for Craig, noting that federal election law barred moving the date of House elections in all but a few circumstances. Kistner appealed to the Eighth Circuit Court of Appeals, which also sided with Craig. The appeals court held that the death of a candidate from a party with "modest electoral strength" could not justify postponing the election. After Kistner's appeal to the Supreme Court was rejected, the election was cleared to continue as scheduled on November 3.[17][20][21][22][23]
Tenure
According to the McCourt School of Public Policy at Georgetown University, Craig held a Bipartisan Index Score of 0.3 in the 116th United States Congress for 2019, placing her 114th out of 435 members.[24]
During Donald Trump's presidency, Craig voted in line with Trump's stated position 5.5% of the time.[25] As of September 2021, Craig had voted in line with Joe Biden's stated position 100% of the time.[26]
Committee assignments
Caucus memberships
Electoral history
Personal life
Craig lives in Eagan, Minnesota.[11] She and her wife, Cheryl Greene, have four children.[32] She is Lutheran.[33]
See also
References
External links
Issues
Source: Government page
Committees
Legislation
Learn more about legislation sponsored and co-sponsored by Representative Craig.
Issues