Summary
Current Position: US Representative for MN District 7 since 2015
Affiliation: Republican
Former Position(s): State Delegate from 2005 – 2011
Featured Quote: 
Police reform must focus on efforts that improve relationships between law enforcement and the communities they serve. @StCloudPDMN is doing just that & my Community OutPost Outreach and Engagement Act will take their effort nationwide.
Featured Video: 
VIRAL MOMENT: House GOP member video gets stuck upside down during committee hearing
News
Republican leaders within the House Financial Services Committee are requesting a report by the Congressional Budget Office (CBO) on the economic impact of new spending proposals put forward by Democrats.
Specifically, the congressmen, U.S. Rep. Patrick McHenry (R-NC), top Republican on the House Financial Services Committee, and U.S. Rep. Tom Emmer (R-MN), the ranking Republican on the Oversight and Investigations Subcommitee, are urging the CBO to analyze the effects of the proposed spending plan on GDP growth and consumer prices.
"Last September, the Congressional Budget Office issued a report entitled 'The Effects of Pandemic-Related Legislation on Output.' The reported analyzed the economic impact of the four spending bills Congress passed between March and April 2020, including the effect on gross domestic product (GDP), inflation, the debt and deficits. Since then, Congress has spent an additional $900 billion in December 2020 and $2 trillion in March 2021 in response to the global pandemic. Moreover, Democrats are on the cusp of spending an additional five trillion, some of which will be paid for through higher taxes, but mostly financed through additional debt," the congressmen wrote to CBO Director Phillip Swagel
Twitter
About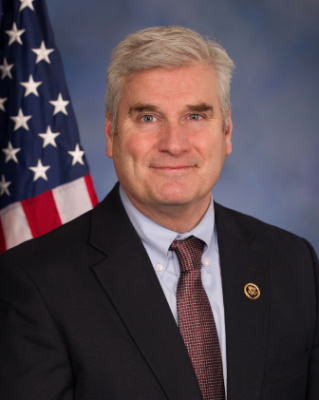 Source: Government page
Congressman Tom Emmer was sworn in for his first term in the U.S. House of Representatives on January 6, 2015. He is currently serving his fourth term.
Tom was elected by his fellow Republican colleagues to join the House GOP Leadership team as the Chairman of the National Republican Congressional Committee for the 116th Congress and again for the 117th Congress. Currently, he sits on the House Financial Services Committee. He is also a member of the Republican Deputy Whip Team and the House Republican Steering Committee.
Born in 1961, Tom grew up in Minnesota and attended St. Thomas Academy. He received his BA in Political Science from the University of Alaska-Fairbanks and his JD from William Mitchell College of Law.
After practicing law for several years, he opened his own law firm. The next 20 years were spent balancing family, business, coaching hockey, and serving on the city councils in Independence and Delano.
Before coming to Congress, he served in the Minnesota House of Representatives from 2004-2008.
He and his wife Jacquie have been married for over 30 years and have seven children. They reside in Delano.
Voting Record
Caucuses
Autism Caucus
Bi-Partisan Congressional Pro-Life Caucus
BioFuels Caucus
Border Security Caucus
Congressional Beef Caucus
Congressional Blockchain Caucus
Congressional Boating Caucus
Congressional Broadcasters Caucus
Congressional Career and Technical Education Caucus
Congressional Caucus for Effective Foreign Assistance
Congressional Caucus on Foster Youth
Congressional Coalition on Adoption
Congressional Cybersecurity Caucus
Congressional Diabetes Caucus
Congressional Financial Security Caucus
Congressional Fintech and Payments Caucus
Congressional Fire Services Caucus
Congressional Franchise Caucus
Congressional Hockey Caucus
Congressional Independent Colleges Caucus
Congressional Internet Caucus
Congressional Personalized Medicine Caucus, Co-Chair
Congressional STARBASE Caucus
Congressional Suburban Caucus
Congressional Youth Sports Caucus
Dairy Caucus
Digital Trade Caucus
General Aviation Caucus
House Civil Legal Aid Caucus, Vice Chairman
House Entrepreneurship Caucus
House Manufacturing Caucus
House Rural Education Caucus
House Small Brewers Caucus
House RV Caucus
Joint Strike Fighters (JSF) Caucus
Law Enforcement Caucus
Mental Health Caucus
National Guard Caucus
Northern Border Caucus
Pro-life Caucus
Rare Disease Caucus
Rural Broadband Caucus
Sportsmen's Caucus
U.S.-Japan Congressional Caucus
USO Congressional Caucus
UXO/Demining Caucus
Western Caucus
Task Forces
Task Force on Financial Technology – Ranking Member
Bipartisan Taskforce to Combat the Heroin Epidemic
Task Force to Combat Identity Theft and Fraud
Working Groups
Congressional Cuba Working Group
Offices
WASHINGTON, D.C. OFFICE
315 Cannon House Office Building
Washington, DC 20515
Phone: (202) 225-2331
Fax: (202) 225-6475
OTSEGO, MN OFFICE
9201 Quaday Ave. NE
Suite 206
Otsego, MN 55330
Phone: (763) 241-6848
Fax: (763) 241-7955
Contact
Email:
Web
Government Page, Government Page, Twitter, YouTube, Facebook, Wikipedia
Politics
Source: none
Campaign Finance
Open Secrets – We Follow the Money
Voting Record
VoteSmart – Key Votes & Ratings
Search
Wikipedia Entry
Thomas Earl Emmer Jr.[1] (born March 3, 1961) is an American attorney, lobbyist and politician who has been the U.S. Representative for Minnesota's 6th congressional district since January 2015. The district includes most of the northern suburbs of the Twin Cities, as well as St. Cloud.
Emmer served as a member of the Minnesota House of Representatives from 2005 until 2011 and was the Republican nominee for governor in the 2010 election. In the November 2014 general election, he won the 6th congressional district seat being vacated by Michele Bachmann.
Early life, education
Emmer was born in South Bend, Indiana;[2] his family later moved to Edina, Minnesota. He attended St. Thomas Academy, an all-male, Catholic, military, college-preparatory high school in Mendota Heights, near Saint Paul.[3]
Emmer attended Boston College[4] and the University of Alaska Fairbanks,[1] graduating in 1984 with a Bachelor of Arts in political science. He played hockey for both schools. In 1988 Emmer received a Juris Doctor from William Mitchell College of Law in Saint Paul, Minnesota.[5]
Career
Emmer began his legal career representing cities and counties through the League of Minnesota Cities Insurance Trust and the League of Minnesota Counties Insurance Trust, handling lawsuits against police officers. He also represented volunteer firefighters and city and county inspectors, and handled a variety of land use issues. He was licensed to practice law in Minnesota, North Dakota, and Wisconsin.[6]
Emmer served on city councils in Independence, Minnesota, and then in Delano, Minnesota.[4]
Minnesota House of Representatives
In 2004 incumbent Republican State Representative Dick Borrell of Minnesota's House District 19B decided to retire. District 19B includes portions of Wright and Hennepin Counties and the cities of Otsego, Albertville, St. Michael, Rockford, Delano, Montrose, and Waverly.[4] Emmer, the Republican candidate, defeated Democrat Lori M. Schmidt, an attorney, 60%–40%, in the November 2004 general election.[7]
In 2006 Emmer won reelection to a second term with 61% of the vote.[8] In 2008 he was reelected to a third term with 61% of the vote.[9] In 2010 he chose to run for governor of Minnesota rather than seek reelection.
During legislative sessions, Emmer regularly rode the bus to the Minnesota State Capitol.[1] Emmer served on the Finance Committee, the Health Care and Human Services Policy and Oversight Committee, and the State and Local Government Operations Reform, Technology and Elections Committee. He was also a member of the Finance Subcommittee for the Health Care and Human Services Finance Division, and of the Health Care and Human Services Policy and Oversight Subcommittee for the Licensing Division.[4]
2010 gubernatorial election
Emmer officially announced his candidacy for governor of the State of Minnesota in July 2009.[10][11] In January 2010, Emmer came in second to Marty Seifert in a non-binding straw poll of Republican Party caucus participants. In April 2010, Emmer announced that his running mate would be Metropolitan Council member Annette Meeks. Emmer received the endorsements of former Alaska Governor Sarah Palin,[12] Governor Tim Pawlenty, and Lieutenant Governor Carol Molnau.[13] On April 30, 2010, the Republican Party of Minnesota officially endorsed Emmer as its candidate for governor at the state convention in Minneapolis. His main opponent, Marty Seifert, withdrew from the race and endorsed Emmer when it became apparent that Emmer was nearing the threshold for party endorsement. On August 10, 2010, Emmer won the Republican primary with 82% of the vote, a 75-point margin over Bob Carney.[14][15]
The race attracted national attention as the "first case in this election cycle of a company hit by national protests over a campaign donation".[16] Minnesota-based Target Corporation donated $150,000 to Minnesota Forward, a new political action committee paying for advertising that supported Emmer's gubernatorial election.[17] Emmer said he viewed Target's donation as an exercise in free speech and wanted to keep his campaign focused on economic issues.[18] Best Buy also donated $100,000 to Minnesota Forward.[19]
Emmer trailed his Democratic opponent Mark Dayton by 9,000 votes in the initial general election results, a margin small enough to trigger an automatic recount. Most analysts felt it was unlikely that the Emmer campaign could overcome such a deficit in a recount.[20] After the recount made little difference in the results, Emmer conceded the election on December 8, 2010.[21]
Post-2010 election activities
Emmer was a registered lobbyist in Minnesota,[22] and co-hosted a morning talk radio program with Bob Davis on KTLK in Minneapolis.
In early 2011, he ran for an open Minnesota seat on the Republican National Committee, but lost that election to Hennepin County Commissioner Jeff Johnson.[23]
Emmer hosted a 2011 event promoting the launch of Representative Ron Paul's presidential campaign in Minnesota.[24]
U.S. House of Representatives
Elections
2014
Upon the surprise retirement of U.S. Representative Michele Bachmann, Emmer was considered a possible candidate for the Sixth Congressional District seat; his state house district included a large slice of the congressional district's western portion.[25] On June 5, 2013, Emmer officially announced he would seek the Republican nomination for the seat.[26] On February 4, 2014, Emmer received 67.9% of the vote in a 6th district straw poll.[27][28] On April 12 he received the Republican Party endorsement for the nomination on the first ballot with 76%, but he still faced a primary challenge from his two competitors, Anoka County Board Chairwoman Rhonda Sivarajah and former state representative Phil Krinkie.[29] Emmer was endorsed by the Tea Party Express, Young Americans for Liberty's Liberty Action Fund, and many Minnesota legislators.[30][31] He won the primary with 73% of the vote, and easily prevailed in the November general election.
2014 Republican primary results

Party
Candidate
Votes
%
Republican
Tom Emmer
19,557
73.3
Republican
Rhonda Sivarajah
7,125
26.7
Total votes
26,682
100.0
2016
In 2016 Emmer defeated Democratic nominee David Snyder, 66% to 34%.
2016 Republican primary results

Party
Candidate
Votes
%
Republican
Tom Emmer (incumbent)
13,590
68.7
Republican
A. J. Kern
5,219
26.4
Republican
Patrick Munro
962
4.9
Total votes
19,771
100.0
2018
In 2018 Emmer defeated Democratic nominee Ian Todd, 61% to 39%.
2018 Republican primary results

Party
Candidate
Votes
%
Republican
Tom Emmer (incumbent)
34,251
76.6
Republican
A.J. Kern
7,897
17.7
Republican
Patrick Munro
2,575
5.8
Total votes
44,723
100.0
2020
In 2020 Emmer defeated Democratic nominee Tawnja Zahradka 66% to 34%.
2020 Republican primary results

Party
Candidate
Votes
%
Republican
Tom Emmer (incumbent)
30,654
87.2
Republican
Patrick Munro
4,518
12.8
Total votes
35,172
100.0
Tenure
According to the McCourt School of Public Policy at Georgetown University, Emmer held a Bipartisan Index Score of -0.0 in the 116th United States Congress for 2019, which placed him 192nd out of 435 members.[33] Based on FiveThirtyEight's congressional vote tracker at ABC News, Emmer voted with Donald Trump's stated public policy positions 91.5% of the time,[34] which ranked him average in the 116th United States Congress when predictive scoring (district partisanship and voting record) is used.[35]
In October 2020, after it was determined that Emmer had interacted with individuals who tested positive for coronavirus in Washington D.C., such as Donald Trump, Emmer flew on a Delta flight in violation of Delta's rules, potentially exposing the other passengers to the virus.[36]
On May 19, 2021, Emmer and the other seven Republican House leaders voted against establishing a national commission to investigate the January 6, 2021 attack on the United States Capitol Complex. Thirty-five House Republicans and all 217 Democrats present voted to establish such a commission.[37][38]
In August 2021, Emmer released a statement about the resignation of Minnesota Republican Party chair Jennifer Carnahan after her ties with donor, strategist, and alleged sex trafficker became a national news story.[39] Emmer had previously received a $15,600 donation from Lazzaro, which Emmer said he would donate to charity.[40][41][42]
Committee assignments
Caucus memberships
Political positions
Abortion
Emmer opposes abortion.[45]
BPA
In 2009, Emmer voted against legislation to prohibit sales of any children's product containing Bisphenol-A (except for used children's products).[46][47] He said he voted against the law because of fear of "increased costs." As well-intentioned as people may be, he said, "they don't think about what this vote means five steps down the line".[48]
Bullying
During an October 9, 2010, televised debate, Emmer said he would oppose legislation to combat school bullying against gay and lesbian young people. Emmer, who voted against anti-bullying legislation as a state lawmaker, said that teachers are most responsible for halting bullies, but suggested that the threat of lawsuits keeps them from doing so. "I don't think we need more laws; I think we need more understanding," he said.[49]
Copper nickel mining in northern Minnesota
Emmer supports two copper nickel mines in the Superior National Forest[50] planned by Polymet, which is owned by Switzerland-based mining giant Glencore, and Twin Metals, which is owned by Antofagasta, a Chilean mining company controlled by the Luksics, one of Chile's wealthiest families.[51]
When the Department of Interior did not list copper or nickel as two of 35 "critical minerals" essential to national security, Emmer released a press release of a letter he wrote to Department of Interior Secretary Ryan Zinke requesting that copper and nickel be included.[52]
Emmer and Representative Pete Stauber both stood beside Assistant Secretary of the Interior Joseph Balash as he signed leases permitting Twin Metals to explore a large area of national forest land nine miles southeast of Ely for copper-nickel reserves on May 15, 2019. The Obama administration had mothballed the lease renewal pending an environmental review, but Twin Metals is now in possession of a 10-year lease to explore the area, with a view toward opening a mine there.[53]
Drunk driving
In 2009, Emmer sponsored a bill that would shorten the period of license revocation for driving under the influence and for refusing to take a . Additionally, though "suspected drunken drivers [currently] face revocation before they go to court," Emmer's bill would have delayed revocations until after conviction.[54] Supporters of Emmer's bill said "it's needed because pre-conviction revocations penalize drivers before proving they're guilty."[55] Mothers Against Drunk Driving and the head of the Minnesota DWI task force opposed the legislation[56] because it would allow arrested drivers to continue to drive during the time between their arrest and hearing.[57]
Emmer's own history became an issue in relation to his bill.[58] At age 20, Emmer received a driving under the influence-related ticket. In 1991 he pleaded guilty to careless driving while two charges for DWI and a license-plate violation were dropped.[59] Emmer denied that his own drunk driving and legal consequences played a part in the bill, stating, "We all come to the Legislature with life experiences, but it has nothing to do with this bill."[54] Emmer also said that his sentence in 1981 should have been harsher, because in that case he "probably wouldn't have taken the second chance" that led to his subsequent arrests and guilty plea in 1991.[60]
On May 13, 2010, Emmer was one of three legislators not to vote on a bill that would have provided such tougher penalties for drunk drivers. He said he missed the vote when a previously scheduled lunch ran long, and that he had "no idea" how he would have voted on the bill, but that he "assume[d]" he would have supported it.[61]
Healthcare
Emmer favors repealing the Affordable Care Act (Obamacare). After supporting the March 2017 version of the American Health Care Act (a bill to repeal the ACA), he voted for it on May 4, 2017, before it had been scored by the Congressional Budget Office to determine its economic impact.
Minimum wage
In 2005, as a state representative, Emmer introduced an amendment that would have eliminated Minnesota's minimum wage law.[62]
National security
Emmer supported President Donald Trump's 2017 executive order to temporarily curtail immigration from seven predominantly Muslim countries until better screening methods are devised, saying, "Everybody needs to take a deep breath. There is no litmus test based on religion. The administration and I understand it has — takes the seven countries identified by the Obama administration, not this administration, as the most dangerous countries when it comes to potential terrorists."[63]
Pharmacy conscience clause
Emmer has supported "conscience clause" legislation that would allow pharmacists to refuse to dispense contraception on the basis of "ethical, moral or legal grounds as long as the pharmacist notifies their employer in advance and the employer can ensure a patient has timely access to the drug or device".[64]
Same-sex marriage
Emmer supported a state constitutional amendment banning civil recognition of same-sex marriage or its legal equivalent, stating, "I believe marriage is the union between one man and one woman."[65] In March 2007, Emmer introduced HF 1847, a proposed amendment to the Minnesota Constitution "recognizing as marriage or its legal equivalent only a union between one man and one woman."[66] Voters later rejected this proposal.
Allegations of antisemitism
In 2019, Emmer sent a fundraising letter that critics alleged included antisemitic tropes.[67] The letter claimed that "left-wing radicals essentially BOUGHT control of Congress for the Democrats" and that three Jewish billionaires (Michael Bloomberg, Tom Steyer and George Soros) "bought" control of Congress for Democrats.[68]
Emmer vigorously rejected the allegations, and numerous Republicans pushed back against them, including Matt Brooks of the Republican Jewish Coalition, who argued, "Firstly, Tom Steyer isn't even Jewish; he's a practicing Episcopalian. Secondly, people can't simply be shielded from criticism because they're Jewish, not when otherwise similar people are criticized for the same exact actions. If it's fair to criticize the Kochs, like leading Democrat presidential candidates have done, then its fair to criticize the top Democratic funders."[68]
State sovereignty
In 2010 Emmer sponsored an amendment to the Minnesota Constitution that would allow the state to nullify federal laws.[69]
Taxes
Emmer strongly opposes tax increases. He has also proposed gradually reducing the state corporate tax, with the eventual goal of repealing it altogether.[70]
Texas v. Pennsylvania
In December 2020, Emmer was one of 126 Republican members of the House of Representatives to sign an amicus brief in support of Texas v. Pennsylvania, a lawsuit filed at the United States Supreme Court contesting the results of the 2020 presidential election, in which Joe Biden defeated[71] incumbent Donald Trump. The Supreme Court declined to hear the case on the basis that Texas lacked standing under Article III of the Constitution to challenge the results of an election held by another state.[72][73][74]
House Speaker Nancy Pelosi issued a statement that called signing the amicus brief an act of "election subversion." She also reprimanded Emmer and the other House members who supported the lawsuit: "The 126 Republican Members that signed onto this lawsuit brought dishonor to the House. Instead of upholding their oath to support and defend the Constitution, they chose to subvert the Constitution and undermine public trust in our sacred democratic institutions."[75][76]
"Tip credit"
On July 5, 2010, after visiting a restaurant in St. Paul, Emmer was asked during a press conference if he supported a tip credit, the policy of allowing businesses to subtract tips from a server's hourly wage. His response was "Yes… if you didn't have a minimum wage law", adding, "somebody could be taking home well over one hundred thousand dollars as a server" while the restaurant owner could be making much less.[77][78]
One week after that press conference, Emmer announced a proposal that would exempt the first $20,000 a server makes in tips from state taxes.[79] At the same press conference a protester dumped $20 in pennies in Emmer's lap.[80]
Personal life
In 1910 Emmer's great-grandfather and his two brothers founded Emmer Brothers Lumber.[81] It is now called Viking Forest Products and is employee-owned.[82]
Emmer has seven children with his wife, Jacqueline, whom he married in 1986.[6] He is an avid hockey player and coach.[1]
Electoral history
References
^ a b c d Helgeson, Baird. "Tom Emmer: Riding a new populist wave" Archived July 17, 2010, at the Wayback Machine, Star Tribune, July 11, 2010.
^ "Biography". Congressman Tom Emmer. December 11, 2012. Retrieved January 11, 2018.
^ Biography Archived March 10, 2010, at the Wayback Machine at Emmer's gubernatorial campaign website
^ a b c d Profile of Tom Emmer at Minnesota's legislature's website
^ "Emmer for Governor". Tomemmer.com. Retrieved August 2, 2010.
^ a b Gueningsman, Ryan (July 13, 2009). "Governor Tom Emmer? Local lawmaker, attorney throws his hat into the ring". Herald Journal. Retrieved July 23, 2019.
^ "Our Campaigns – MN House Seat 19B Race – Nov 02, 2004". www.ourcampaigns.com. Retrieved June 7, 2018.
^ "Our Campaigns – MN House Seat 19B Race – Nov 07, 2006". www.ourcampaigns.com. Retrieved June 7, 2018.
^ "Ourcampaigns.com". Ourcampaigns.com. Retrieved August 23, 2014.
^ Duchschere, Kevin.
"Delano's Emmer plans run for governor", Star Tribune, July 6, 2009.
^ "Emmer's gubernatorial campaign website". Emmerforgovernor.com. September 13, 2013. Retrieved August 23, 2014.
^ Sarah Palin Backs Emmer, Minnesota Public Radio News, April 29, 2010.
^ "Molnau backs Tom Emmer in gov's race | Minnesota Public Radio NewsQ". Minnesota.publicradio.org. January 25, 2010. Retrieved August 2, 2010.
^ "2010 Elections – Governor". Star-Tribune.com. August 11, 2010. Archived from the original on July 16, 2010. Retrieved August 11, 2010.
^ Hamburger, Tom (August 17, 2010). "Gay rights group's talks with Target break down". Los Angeles Times. Retrieved August 17, 2010.
^ Stassen-Berger, Rachel E. (July 18, 2010). "New Ads and a New Nod in Minnesota's Governor Race". Star Tribune. Retrieved August 3, 2010.
^ Logn, Martiga. "The Associated Press: Liberal groups push to exploit Target backlash". Retrieved August 17, 2010.
^ Cummings, Jeanne (August 17, 2010). "MoveOn calls for boycott of Target". Politico.
^ "Prelude to a recount". Politics in Minnesota. November 3, 2010. Retrieved November 3, 2010.
^ Stassen-Berger, Rachel E. (December 8, 2010). "Emmer concedes; says Dayton is next governor". Star Tribune. Archived from the original on September 11, 2012. Retrieved December 8, 2010.
^ Helgeson, Baird (February 14, 2011). "Emmer to lobby for effort he opposed as legislator". Star Tribune. Retrieved August 23, 2014.
^ "Ron Paul will launch his Minnesota campaign in St. Cloud". Archived from the original on October 18, 2011.
^ "Large field of Republicans will vie for Bachmann's seat". KARE 11. May 29, 2013. Archived from the original on June 15, 2013. Retrieved August 23, 2014.
^ Linkins, Jason (June 5, 2013). "Republican To Join Race To Replace Bachmann". Huffington Post.
^ "Emmer wins endorsement in 6th District". KARE 11. April 12, 2014. Retrieved August 23, 2014.
^ Beldend, Doug (April 13, 2014). "GOP endorses Emmer for Bachmann's 6th District seat". Pioneer Press. Retrieved August 23, 2014.
^ "Tom Emmer". LibertyAction. February 4, 2014. Archived from the original on May 2, 2014. Retrieved August 23, 2014.
^ "Endorses Tom Emmer for U.S. Congress in Minnesota's 6th Congressional District". Tea Party Express. April 28, 2014. Retrieved August 23, 2014.
^ "November 8, 2016 General Election Unofficial Results". Minnesota Secretary of State. November 8, 2016. Retrieved November 20, 2016.
^ "The Lugar Center – McCourt School Bipartisan Index House Scores 116th Congress First Session (2019)" (PDF). Georgetown University. Retrieved May 20, 2020.
^ "Tracking Congress In The Age Of Trump – Tom Emmer". ABC News. January 30, 2017. Retrieved May 20, 2020.
^ "Tracking Congress In The Age Of Trump". ABC News. January 30, 2017. Retrieved May 20, 2020.
^ "Minnesota Republicans fly Delta home from D.C. after COVID-19 exposure". Star Tribune. Retrieved October 3, 2020.
^ Roll Call 154 Bill Number: H. R. 3233 117th Congress, 1st Session, United States House of Representatives, May 19, 2021. Retrieved May 20, 2021.
^ How Republicans voted on a commission to investigate the Jan. 6 Capitol riot, Washington Post, May 19, 2021. Retrieved May 20, 2021.
^ Kare 11 Staff. "Minnesota GOP Chairwoman Jennifer Carnahan resigns". KARE 11.
^ Uren, Adam. "Gold, private jets and Ferraris: Arrested GOP strategist Anton Lazzaro's high-flying lifestyle". Bring Me the News.
^ Orrick, Dave. "Minnesota GOP lawmakers grapple with donor's child sex trafficking charges, return contributions". Pioneer Press.
^ "Member List". Retrieved November 6, 2017.
^ Stassen-Berger, Rachel E. (May 3, 2010). "In voting records, Kelliher and Emmer mirror images". Hot Dish Politics. Star Tribune.
^ "S.F. No. 247, 2nd Engrossment – 86th Legislative Session (2009-2010)". Minnesota Senate. Retrieved August 23, 2014.
^ "Roll Call on S.F. NO. 247 CALENDAR FOR THE DAY Passage – Minnesota House of Representatives". House.leg.state.mn.us. May 5, 2009. Retrieved July 7, 2014.
^ Austin, Paul (October 6, 2010). "Five Steps Down the Line". StarTribune.com. Retrieved November 1, 2010.
^ Hoppin, Jason (October 9, 2010). "Minnesota governor hopefuls square off over bullying laws: Dayton, Horner support legislation; Emmer calls for teacher protections". Pioneer Press.
^ Marohn, Kirsti (September 7, 2018). "Emmer, McCollum weigh in on opening forests near Boundary Waters to mining exploration". MPR News.
^ Jennifer, Bjorhaus (August 7, 2019). "What You Need to Know About The Polymet and Twin Metals Mines". Star Tribune.
^ "Emmer Statement on Department of Interior's Final List of Critical Minerals". May 21, 2018. Retrieved May 21, 2018.
^ Uren, Adam (May 15, 2019). "Trump Administration renews leases for mining project near Boundary Waters Two Minnesota congressmen were on hand for the signing". Bring Me The News.
^ a b "Sponsor of DWI change has 2-ticket DWI record". StarTribune.com. March 29, 2009. Retrieved August 13, 2010.
^ Doyle, Pat (March 27, 2009). "Plan puts brakes on penalties for DWI". Star Tribune. Retrieved August 13, 2010.
^ Foti, Jim. "Sponsor of DWI change has 2-ticket DWI record", Star Tribune, March 29, 2009.
^ Scheck, Tom. "Seifert keeps up pressure on Emmer on DWI issue", Minnesota Public Radio News, April 26, 2010.
^ Helgeson, Baird (April 22, 2010). "Emmer DWI dustup, Day 2". StarTribune.com. Retrieved August 13, 2010.
^ Foti, Jim (March 29, 2009). "Sponsor of DWI change has 2-ticket DWI record". Star Tribune. Retrieved August 2, 2010.
^ Doyle, Pat (April 21, 2010). "Guv's race: Underwear, dirty laundry". Star Tribune. Retrieved August 13, 2010.
^ Doyle, Pat (May 13, 2010). "Emmer, MIA on DWI vote, ignites criticism". Star Tribune. Retrieved August 13, 2010.
^ Bakst, Brian (July 14, 2010). "Minnesota GOP hopeful Emmer tries to fix tip jam". BusinessWeek. Archived from the original on August 18, 2010. Retrieved August 13, 2010.
^ Blake, Aaron (January 29, 2017). "Coffman, Gardner join Republicans against President Trump's travel ban; here's where the rest stand". Denver Post. Retrieved January 30, 2017.
^ "Pharmacists' Conscience Clause" Goes To House Floor, Tom Emmer's office press release, March 9, 2006.
^ Social Values page Archived July 23, 2010, at the Wayback Machine at Emmer's campaign website
^ HF1847 Status in House for Legislative Session 85 Minnesota State Legislature.
^ "Left or right, pro-Israel positions don't excuse anti-Semitism". J. August 16, 2019. Retrieved July 27, 2020.
^ a b Sonmez, Felicia; DeBonis, Mike (August 7, 2019). "Head of House GOP campaign arm accused of anti-Semitism after letter claiming Bloomberg, Steyer and Soros 'bought' control of Congress". The Washington Post. Retrieved July 27, 2020.
^ Kleefeld, Eric (June 22, 2010). "Emmer Defends Nullification: 'Minnesotans Should Have A Say In The Laws That Govern Them'". Talking Points Memo.
^ "Taxes – The Issues". Emmer for Governor. Archived from the original on October 21, 2010. Retrieved August 17, 2010.
^ Blood, Michael R.; Riccardi, Nicholas (December 5, 2020). "Biden officially secures enough electors to become president". AP News. Archived from the original on December 8, 2020. Retrieved December 12, 2020.
^ Liptak, Adam (December 11, 2020). "Supreme Court Rejects Texas Suit Seeking to Subvert Election". The New York Times. ISSN 0362-4331. Archived from the original on December 11, 2020. Retrieved December 12, 2020.
^ "Order in Pending Case" (PDF). Supreme Court of the United States. December 11, 2020. Archived (PDF) from the original on December 11, 2020. Retrieved December 11, 2020.
^ Diaz, Daniella. "Brief from 126 Republicans supporting Texas lawsuit in Supreme Court". CNN. Archived from the original on December 12, 2020. Retrieved December 11, 2020.
^ Smith, David (December 12, 2020). "Supreme court rejects Trump-backed Texas lawsuit aiming to overturn election results". The Guardian. Retrieved December 13, 2020.
^ "Pelosi Statement on Supreme Court Rejecting GOP Election Sabotage Lawsuit" (Press release). Speaker Nancy Pelosi. December 11, 2020. Retrieved December 13, 2020.
^ "GOP's Emmer Would Like To Cut Waiter Wages". YouTube. July 5, 2010. Retrieved August 8, 2010.
^ Crosby, Jackie (July 5, 2010). "Emmer: Lower wages for tipped workers. The gubernatorial candidate says wages for restaurant workers are taking money from customers". Star Tribune.
^ Bakst, Brian; Mulcahy, Mike (July 13, 2010). "Emmer's latest plan: Don't tax tips". Minnesota Public Radio. Associated Press.
^ Van Denburg, Hart (July 15, 2010). "Tom Emmer doused with 2,000 pennies by protester [VIDEO]". City Pages. Village Voice Media. Archived from the original on March 23, 2012. Retrieved May 4, 2012.
^ "Tom Emmer – Biographies – About the Team". Emmer for Governor. Archived from the original on September 26, 2010. Retrieved August 17, 2010.
^ About Us Archived May 2, 2010, at the Wayback Machine at Viking Forest's official website
External links
Issues
Source: Government page
Committees
ldljd
Legislation
Sponsored and Cosponsored
Issues
Agriculture
Broadband, Blockchain, and Emerging Technology
Budget, Taxes, and the Economy
Cuba
Education and Workforce Development
Energy, Environment, and Natural Resources
Financial Services
Foreign Affairs
Health Care and Medical Innovation
Law Enforcement and National Security
Second Amendment
Seniors
Trade
Transportation
Veterans