Summary
Current Position: US Representative for MN District 8 since 2019
Affiliation: Republican
Former Position(s): Member of the St. Louis County Commission from 2013 – 2019
Featured Quote: 
Minnesotans deserve to feel safe. That's why, as my Democrat colleagues push forward harmful policies to take away funds and resources from law enforcement, I will continue to act as a firewall and fight back against their efforts to defund the police.
Featured Video: 
Pete Stauber On Why The North Is Turning To The GOP
News
Earlier Friday Republican U.S. Rep. Pete Stauber held an event of his own with Republican legislators at the Minnesota Capitol to say the Line 3 pipeline is a valid project that benefits many construction workers and their families.
Stauber said he would fight any effort to stop the pipeline as it nears completion.
"Enbridge replacement of Line 3 is a good, safe project," Stauber said. "It's been vetted — one of the most vetted projects in this entire state. And it has been successfully defended in the courts."
Twitter
About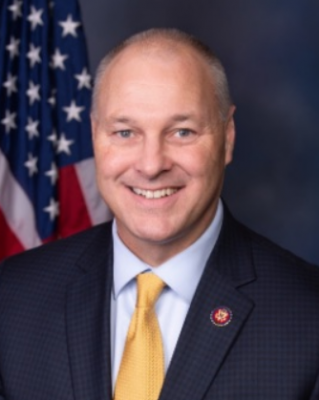 Source: Government page
Congressman Pete Stauber is a Duluth native, currently serving his second term in Congress as the Representative from Minnesota's Eighth Congressional District. Congressman Stauber believes that Northeastern Minnesota deserves strong, principled leadership in Washington, D.C. and is focused on unleashing the economic engine in the region.
Congressman Stauber currently serves on the House Transportation and Infrastructure Committee, Small Business Committee, and Natural Resources Committee. On the Natural Resources Committee, Congressman Stauber serves as the Ranking Member of the Subcommittee on Energy and Mineral Resources, where he remains committed to maintaining American energy independence and ending reliance on foreign minerals.
Congressman Stauber has a remarkable record of public service. Prior to his time in Congress, Stauber worked as a St. Louis County Commissioner, City Councilor in Hermantown, and Duluth police officer for over two decades.
During his tenure as a police officer, Stauber was the victim of two violent gun crimes. In 1995, he was shot in the head while off-duty by a criminal with multiple past offenses. A few years later, a suspect pulled the trigger at point blank range, and by the grace of God, the gun malfunctioned. His experience as a police officer solidified his view that more must be done to support law enforcement and create safer communities, which is why he is leading policing legislation called the JUSTICE Act in the House.
Congressman Stauber graduated from Denfeld High School and received a scholarship to play hockey at Lake Superior State University. During his sophomore year, Stauber became team captain and led the Lakers to a Division 1 National Championship. Following college graduation, he went on to play hockey with the Detroit Red Wings Organization.
Congressman Stauber lives in Hermantown with his wife Jodi, an Iraq War veteran and the first female Command Chief of the 148th Fighter Wing. Together, they are the proud parents of four children: Levi, Luke, Isaac, and Addilynn. They are also proud foster parents.
Voting Record
Caucuses 
Law Enforcement Caucus
Steel Caucus
Western Caucus
Sportsmen's Caucus
Problem Solvers Caucus
Offices
Washington, DC 20515
Phone: (202) 225-6211
Brainerd City Hall
Brainerd, MN 56401
Phone: (218) 355-0862
Cambridge City Hall
Cambridge, MN 55008
Phone: (763) 310-6208
Chisholm City Hall
316 W Lake Street Room 7
Chisholm, MN 55719
Phone: (218) 355-0240
5094 Miller Trunk Hwy
Suite 900
Hermantown, MN 55811
Phone: (218) 481-6396
Web
Government Page, Campaign Site, Twitter, Facebook, Wikipedia
Politics
Source: none
Campaign Finance
Open Secrets – We Follow the Money
Voting Record
VoteSmart – Key Votes & Ratings
Search
Wikipedia Entry
Peter Allen Stauber (born May 10, 1966)[1] is an American politician, former professional hockey player, and retired police lieutenant serving as the United States Representative for Minnesota's 8th congressional district. He was elected to his seat in November 2018.[2] A member of the Republican Party, he previously served as a St. Louis County, Minnesota Commissioner from 2013 to 2019.
Early life and education
Stauber was born on May 10, 1966 in Duluth, Minnesota, and attended Denfeld High School in Duluth.[3] He has a bachelor's degree in criminology from Lake Superior State University, where he was a star player[4] on the Lake Superior State Lakers men's ice hockey team.[3][5][6][7] He is credited with helping lead the Lakers to victory in the playoffs and the 1988 NCAA Division I Men's Ice Hockey Championship game.[8][9] Lake Superior "became the smallest school ever to win college hockey's biggest prize."[3] In that game, Stauber took a critical shot, described by opinion columnist Mike Mullen during Stauber's 2018 candidacy for the U.S. House of Representatives as "risky, arguably crafty, and inarguably illegal,"[3] and by Star Tribune sportswriter John Gilbert in his 1988 story on the championship game as the moment when "Pete Stauber got away undetected when he straight-armed the net off its moorings during a Saints rush with 1:23 to go in regulation."[10]
After winning the national championship, the team was invited to the White House, where Stauber met President Ronald Reagan, an event he has called a pivotal moment in the formation of his interest in politics.[3]
Career
Professional hockey
In 1990, Stauber signed a multi-year contract with the Detroit Red Wings.[11] The Florida Panthers selected him from the Red Wings in the 1993 NHL Expansion Draft.[12]
Stauber and his brothers, John, Jamie, Bill, Dan, and Robb, all played hockey.[13][6] Together they run an annual Stauber Brothers Military Heroes Hockey Camp, a summer program for children with parents in the military.[14] The six are co-owners of the Duluth Hockey Company, which began as a sporting goods retailer but since 2015 has specialized in hockey-related merchandise.[15][16]
Local politics
Stauber served on the Hermantown City Council for eight years.[17] From 2013 to 2019, he served as a member of the St. Louis County, Minnesota Commission, which includes Duluth.
Political positions
Indigenous issues
A group of Ojibwe tribes from Stauber's district rebuked him for his attempts to block President Joe Biden's nomination of Deb Haaland as United States Secretary of the Interior. The Midwest Alliance of Sovereign Tribes also complained about his actions. A member of the House subcommittee on Indigenous Peoples, Stauber cited Haaland's support of the Green New Deal and opposition to oil drilling. As a member of the House, he will not vote on the nomination.[18]
U.S. House of Representatives
Elections
2018
In June 2018, Donald Trump campaigned for Stauber in his run for U.S. Representative, making his first visit to Minnesota as president and attending his first rally to support a Republican candidate for the House of Representatives in the 2018 general election, visiting Stauber's hometown of Duluth.[19][20]
The 8th district had an open seat in a previously Democratic-Farmer-Labor (DFL)-held district where the last two elections were close.[20][21][22] Partisan funders on both sides of the aisle reserved "millions" of dollars for advertising in a race widely regarded as a potential Republican pickup of a seat that had been held since 2013 by Rick Nolan.[23] In November, Stauber defeated the DFL nominee, former Nolan aide Joe Radinovich, to become only the fifth person to represent the district in 71 years, and the second Republican to do so. He won primarily by running up his margins in the district's more conservative western portion.
During his 2018 campaign, Stauber ran on a policy of allowing Medicare to negotiate drug prices, becoming only one of a handful of Republicans to endorse what was primarily a progressive idea.[24] Stauber has since walked back from his campaign pledge.[24]
2020
Stauber was reelected on November 4, 2020, defeating DFL nominee Quinn Nystrom. In December 2020, he filed a motion to support Texas v. Pennsylvania, described as a "seditious abuse of the judicial process" and aimed at invalidating millions of votes in various swing states. The Duluth News Tribune, which had endorsed Stauber, and many other local officials sharply criticized him for the ploy in an open letter to Stauber.[25]
Tenure
According to the McCourt School of Public Policy at Georgetown University, Stauber held a Bipartisan Index Score of 0.7 in the 116th United States Congress for 2019, which placed him 64th out of 435 members.[26] Based on FiveThirtyEight's congressional vote tracker at ABC News, Stauber voted with Trump's stated public policy positions 90.4% of the time,[27] which ranked him average in the 116th United States Congress when predictive scoring (district partisanship and voting record) is used.[28]
On September 30, 2020, Stauber hosted Trump in a visit to his district, attending a rally of about 3,000 people at the Duluth International Airport. Along with two of his Minnesota Republican House colleagues, Stauber rode with Trump on Air Force One.[29] After it was determined that Stauber had interacted with people who tested positive for COVID-19 in Washington D.C., including Trump, Stauber took a Delta flight in violation of Delta's rules, potentially exposing the other passengers to the virus.[30]
In December 2020, Stauber was one of 126 Republican members of the House of Representatives to sign an amicus brief in support of Texas v. Pennsylvania, a lawsuit filed at the United States Supreme Court contesting the results of the 2020 presidential election, in which Joe Biden defeated[31] incumbent Donald Trump. The Supreme Court declined to hear the case on the basis that Texas lacked standing under Article III of the Constitution to challenge the results of an election held by another state.[32][33][34]
House Speaker Nancy Pelosi issued a statement that called signing the amicus brief an act of "election subversion." She also reprimanded Stauber and the other House members who supported the lawsuit: "The 126 Republican Members that signed onto this lawsuit brought dishonor to the House. Instead of upholding their oath to support and defend the Constitution, they chose to subvert the Constitution and undermine public trust in our sacred democratic institutions."[35][36] New Jersey Representative Bill Pascrell, citing section three of the 14th Amendment, called for Pelosi to not seat Stauber and the other Republicans who signed the brief supporting the suit, arguing that "the text of the 14th Amendment expressly forbids Members of Congress from engaging in rebellion against the United States. Trying to overturn a democratic election and install a dictator seems like a pretty clear example of that."[37]
Committee assignments
Caucus memberships
Electoral history
Republican primary results, 2018

Party
Candidate
Votes
%
Republican
Pete Stauber
44,814
89.9
Republican
Harry Welty
5,021
10.1
Total votes
49,835
100.0
Personal life
Of German ancestry, Stauber lives in Hermantown, where he and his family belong to the St. Lawrence Catholic Church.[42] While on police duty in 1995, he was shot and lightly wounded in the head when a bullet entered his squad car.[43][17][44]
References
External links
Issues
Source: Government page
Committees
House Committee on Transportation and Infrastructure
Subcommittee on Highways and Transit
Subcommittee on Railroads, Pipelines, and Hazardous Materials
Subcommittee on Aviation
House Committee on Natural Resources
Subcommittee on Energy and Mineral Resources (Ranking Member)
House Committee on Small Business
Subcommittee on Contracting and Infrastructure
Subcommittee on Underserved, Agriculture, and Rural Business Development
Legislation
Learn more about legislation sponsored and co-sponsored by Representative Stauber.
Issues
Congress
Economy
Transportation
Education
Energy
Health
Veterans
Agriculture
Military/National Security
Trade
Values