Summary
Current Position: US Representative for MN District 3 since 2019
Affiliation: Democrat
Former Position(s): Business owner from 1991 – 2019
 Other Positions:  
Chair, Subcommittee on Investigations, Oversight, and Regulations – Small Business committee
Featured Quote: 
To the community I love: If you're feeling fearful and anxious this week, imagine feeling this way every day of your life and employ that empathy as inspiration to ensure that future American generations ALL know justice, peace, and opportunity.
Featured Video: 
Fox News: Rep. Phillips's Mission to Inspire Collaboration in Congress
News
i
The U.S. military has officially withdrawn from Afghanistan, but on Tuesday, as the last U.S. military plane left and President Joe Biden declared the 20-year-long war over, there were still about 100 to 200 Americans in the country.
U.S. Rep. Dean Phillips of Minnesota's 3rd District was one of the first members of Congress to announce that anyone in Afghanistan having trouble getting out could call his office.
After that, his staff began receiving desperate calls.
"This is probably the most intense and consuming and, perhaps, important mission on which my team and I have been dedicated," Phillips told host Cathy Wurzer.
Phillips and his staff have been collecting the names of people who need help leaving Afghanistan, initiating contact with the State Department and trying to ensure safe evacuations.
As of Wednesday morning, Phillips said his office had 65 cases open involving over 500 individuals and had added over 2,000 names to State Department rolls.
Twitter
About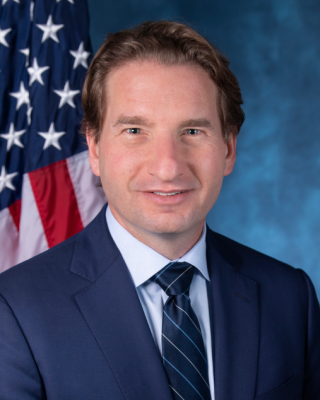 Source: Government page
Dean Phillips is a father, businessman, civic leader, and newly-elected Representative for Minnesota's Third Congressional District.
A Gold Star Son who lost his birth father, Artie, in the Vietnam War, Dean was adopted into the Phillips family when his mother DeeDee married Eddie Phillips, who raised Dean to work hard and always share success.
Dean attended Brown University before returning to Minnesota to earn his MBA from the University of Minnesota's Carlson School of Business. After working at a variety of startup businesses, he joined his family business, Phillips Distilling, which he eventually led. He later went on to help build Talenti Gelato into one of the top-selling ice cream brands in the country. He is now co-owner of Penny's Coffee, a small business with two locations and more on the way.
In Congress, Dean is focused on campaign finance, electoral and ethics reforms, and addressing healthcare costs, global climate change and our nation's gun violence epidemic. He is a member of the House Ethics, Financial Services and Foreign Affairs Committees, as well as the Democracy Reform Task Force and the Gun Violence Prevention Task Force.
Voting Record
Caucuses 
House Democratic Caucus

Committee on Caucus Procedures

Vice Chair, Problem Solvers CaucusPhillips will build on the bipartisan successes from his first term by helping to lead the Problem Solvers Caucus as co-Vice Chair. As too many in Congress and across our country retreat to partisan corners, the Problem Solvers Caucus enters the 117th Congress with 56 members – 28 Republicans and 28 Democrats – seeking to initiate debate, ignite optimism, and elevate the best ideas from both sides of the aisle.

"At a time America needs leaders who practice civility and decency more than ever, I'm honored to work alongside my fellow Democrats and Republicans on a shared mission of using common sense to find common ground in pursuit of the common good."

Gun Violence Prevention Task Force
Democracy Reform Taskforce
Army Caucus
Caucus on Committee Procedures
Bipartisan Opioid Taskforce
Organic Caucus
Library of Congress Caucus
Cuba Working Group
Congressional Coalition on Adoption
Navy-Marine Corps Caucus
US-Japan Congressional Caucus
Offices
2452 Rayburn HOB
45 Independence Ave SW
Washington, DC 20515
Phone: (202) 225-2871
Fax: (202) 225-6351
13911 Ridgedale Drive
Suite 200
Minnetonka, MN 55305
Phone: (952) 656-5176
Contact
Email:
Web
Government Page, Wikipedia, Twitter, YouTube, Facebook, Wikipedia
Politics
Source: none
Campaign Finance
Open Secrets – We Follow the Money
Voting Record
VoteSmart – National Key Votes & Ratings
Search
Wikipedia Entry
Dean Benson Phillips[1] (born January 20, 1969)[2] is an American businessman and politician from Minnesota. Phillips is a political moderate.[3] A member of the Democratic Party, he has represented Minnesota's 3rd congressional district in the U.S. House of Representatives since 2019. The district includes most of the western suburbs of the Twin Cities, such as Bloomington, Eden Prairie, Edina, Minnetonka, Maple Grove, Plymouth, and Wayzata.
Phillips is the founder and CEO of the small local coffee shop chain Penny's.[4][5]
Early life, education, and career
Phillips was born to DeeDee (Cohen) and Artie Pfefer in Saint Paul, Minnesota, in 1969.[6] Artie was killed in the Vietnam War when Dean was six months old. DeeDee later married Eddie Phillips, heir to the Phillips Distilling Company and son of advice columnist Pauline Phillips.[3]
In the early 1970s, Phillips moved from Saint Paul to Edina, Minnesota. He attended The Blake School, where he played on the hockey and baseball teams.[7][8]
He graduated from Brown University in 1991, and is a member of the Sigma Chi fraternity. He worked for bicycle equipment and apparel company InMotion for two years, and then joined the family company. He completed his Master of Business Administration at the University of Minnesota in 2000, and was named president of Phillips Distilling.[3] He now lives in Deephaven.
Phillips, a long time moderate, has supported both Democratic and Republican candidates (such as Governor Arne Carlson and Senator Mark Dayton).[9]
U.S. House of Representatives
Elections
2018
In 2018, Phillips ran for the United States House of Representatives in Minnesota's 3rd congressional district as a Democrat.[10] In the Democratic primary, he defeated former sales associate Cole Young with 81.6% of the vote. Phillips won all three counties in the district.[11]
In the general election, Phillips defeated incumbent Republican Erik Paulsen with 55.6% of the vote.[12] When he took office in 2019, he became the first Democrat to hold this seat since 1961.
2020
Phillips ran for reelection in 2020. He defeated Cole Young in the Democratic primary with 90.7% of the vote[13] and faced off against the Republican nominee, businessman Kendall Qualls.[14] Phillips defeated Qualls with 55.6% of the vote.[15]
Tenure
A political moderate, Phillips has a bipartisan record. According to the McCourt School of Public Policy at Georgetown University, he held a Bipartisan Index Score of 1.1 in the 116th United States Congress for 2019, placing him 27th out of 435 members.[16] Based on FiveThirtyEight's congressional vote tracker at ABC News, Phillips voted with President Donald Trump's stated public policy positions 5.5% of the time,[17] which ranked him average in the 116th Congress when predictive scoring (district partisanship and voting record) is used.[18]
Committee assignments
Caucus memberships
Electoral history
Personal life
Phillips is married and has two daughters from a previous marriage. He is Jewish[23] and was acknowledged by the Minnesota publication The American Jewish World for serving on the board of Temple Israel in Minneapolis.[24] Phillips donated to several Republican campaigns and served as an advisor to Republican Congressman Jim Ramstad before running for Congress as a Democrat in 2018.[16]
Phillips's paternal grandmother Pauline Phillips was the author of the advice column "Dear Abby," under the pen name Abigail Van Buren.[25]
References
External links
Issues
Committees
HOUSE COMMITTEE ON SMALL BUSINESS
As an entrepreneur and small business owner himself, Rep. Phillips brings valuable experience and a proven bipartisan record of results to the Small Business Committee and will remain focused on supporting those small businesses most impacted by the COVID pandemic. In his first term, Phillips authored the bipartisan Paycheck Protection Program (PPP) Flexibility Act which helped thousands of small businesses access much-needed PPP funds and avoid further closures and layoffs. Minnesota's Third Congressional District has more small businesses – generating more in payroll at $11.2 billion annually – than any other District in the state, according to the Small Business Administration.
"Small businesses in our community – from local burger joints to barbershops – are the glue that hold our communities together and power our economy, and they're in crisis. We must do everything in our power to help them weather the storm so that they can help lead the economic recovery once we are through this pandemic. I'll have the voices of Minnesota's small business owners and entrepreneurs in mind as we provide the oversight necessary to ensure federal funds are accessible and equitably distributed and as we lay the groundwork for a prosperous future for our main street businesses."
SELECT COMMITTEE ON THE MODERNIZATION OF CONGRESS
The bipartisan Select Committee on the Modernization of Congress was created in 2019 and tasked with making recommendations to improve the efficiency and effectiveness of Congress. After months of hearings, the Select Committee released 29 recommendations, including one inspired by Rep. Phillips to overhaul the onboarding process for freshmen members so that newly-elected Republicans and Democrats – who are normally separated by political party – spend more time together. As a new member of the Select Committee, Phillips will advance ideas, processes, and technologies that foster cooperation and restore Americans' faith in government.
"Over my 30-year career in business and philanthropy, I observed hundreds of organizations, institutions, and enterprises throughout the world. I have never encountered one so utterly dysfunctional and in need of reformation as our Congress. A system that elevates dividers and ignores uniters, that promotes those who raise the most money for their party and sidelines those who raise the best ideas for their country, and that over appreciates tenure and under appreciates talent, makes a mockery of our Founders' greatest contributions. It's time for Congress to value winning policies over winning elections."
HOUSE COMMITTEE ON FOREIGN AFFAIRS 
Phillips will remain on the House Committee on Foreign Affairs for a second term. In an increasingly interconnected world, and after four years of increased tensions with allies around the world, his work on the committee will be far-reaching.
"The COVID-19 pandemic, climate change, and the spread of disinformation are global issues that won't be solved with outdated, isolationist thinking. I look forward to working with Secretary of State Antony Blinken and my colleagues on the House Foreign Affairs Committee to rebuild our relationships with allies, reestablish American leadership in the world, and ensure the 21st century is one of expanding peace and prosperity."
Phillips will remain on the House Ethics Committee for a second term. Committee members are tasked with supervising and enforcing ethics rules for the House of Representatives. It is the only standing committee with membership divided evenly between political parties; five Democrats and five Republicans.
"Restoring Americans' faith in our government begins with cleaning up corruption and holding elected leaders accountable to the highest standards of ethics." 
Legislation
Issues